Stories - Hill 37
Annotated aerial pic of Hill 37: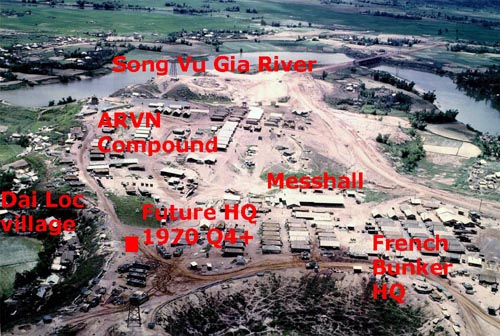 See full size picture by USMC Tankers with whom we shared Hill 37 and were glad for their protection. Same for the 7th Engineers. The Marines on the Hill who learned what we did were, in turn, glad for our protection..
---
Rob Charnell - It looks crossable, doesn't it? - January, 1970
I remember one evening (January 1970) Huddleson and I were going to get a shower (when water was running), and we trudged over the access road where the engineering company (Bn??) was. I usually had to take the long way around further up the hill, because the mud was sooo deep. Well, we finished our showers and were heading back to our tents, came to the access road, at which Hud declared 'It look crossable, doesn't it?' I said 'You've got to be kiddin!'. A tank had previously come pass and smoothed over the road, so it looked flat and hard. Hud, who was 6'3" or better, had a towel wrapped around him, had his jungle boots on, and stepped into the access road. He sank his right leg all the way up to his hip. He was stuck, screaming like hell, and I was laughing so hard I started slipping down the embankment as well into the access road. Eventually we pulled ourselves out before too many onlookers came running to see what all the fuss was about. Needless to say we both headed back to the showers. top
Rob Charnell - "I Hate Snakes" - January, 1970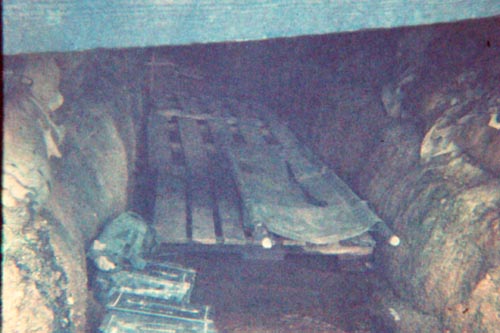 Since you're tired of RAT stories, I have a couple of SNAKE stories to tell.  You may remember the Hill 37 pictures I posted where I referenced one where the coral snakes escaped into the trenches.  These were just outside the French bunker on our side of the hill.  I think one of my ARVN's, Zan, saw them first.  A coral snake, about 2 or 3 foot one, slithered across our hill (between our CP tents) from the hamlet side toward the 7th Engineers.  Zan started talking so fast in Vietnamese I couldn't understand him.  Finally he said 'SNAKE' or 'Tôi mê s?ng r??u' (or something similar).  I ran for my machete, but the damn thing crawled into the trench line on the other side of our perimeter.  About 15 minutes later, he was screaming again, ran for his M-16, locked and loaded, and was running back to the snake.  There it was.  Another one coming from the opposite side of the hill and going into the same covered trench complex as the last one.  It disappeared before Zan could open fire and have the whole hill wondering what was going on.
If there is one thing I am deathly afraid of is snakes. I HATE SNAKES. And of course, as would happen that night, Charlie decided to open up and started walking mortars somewhere else on our hill.  It was pitch black, with all the clouds and rain from the monsoons.  I grabbed my M-16 and ran out of my CP tent with the two ARVN's, started running to the right toward the trenches and stopped dead in my tracks.  There was no way in God's earth I was going to jump into that trench line.  I'd rather take my chances with the mortars.  Instead, I did a 180 degree and ran toward the other side of our hill.  It was so dark I didn't see the metal stakes we anchored the CP tent with.  I tripped over the serrated head of the metal stakes, causing a deep gash in my left leg.  I screamed out in total shock and bewilderment and TUMBLED headfirst into the opposite trenches.
Some grunts had already taken up position around the perimeter, and you could hear their laughter and chiding remarks.  I was sooo embarrassed and humiliated.  Even Zan and Dieu looked at me with bemusement.  Dieu kept chiding me to see the Corpsman, 'You get purple heart?'.  Couldn't imagine getting a PURPLE HEART over something so stupid.  I never went to see a Corpsman about getting stitches, cause I was too embarrassed to say how I came about getting hurt.  It healed over time, but not my pride. top
Rob Charnell - Off Limits - January, 1970
I remember once that a Colonel, I guess the one who commanded Hill 37 showed up at our CP tents one afternoon, wanting to see what we were up to. Huddleson and the other 'O' brancher, and I, just looked dumbstruck. We said he couldn't enter our premises because it was off limits. He became infuriated and said we hadn't heard the last of him. Well, we didn't hear from him again. Someone on Hill 327 called to say, our Lt. Col. (forget his name) was called by the 7th Marine commander, and who was told to leave us alone. That our quarters were off limits. Its about the only time I can think of, in all my 4 years in the Marine Corps where I actually felt empowered. It was only a brief glimpse of self-righteousness, for we got mortared that night and I came to the quick realization, that we needed them just as much as they needed us. top
Rob Charnell - Lucky - Spring, 1970
I remember I had a pooch I called 'Lucky' (don't know why I gave him that name). My ARVN's would laugh at me because I coddled the mutt. They said I could get a good price or trade for some rice in Dai Loc (with chickens thrown in) for the mutt. I kept him until I left the Hill for R&R and onto An Hoa. I believe one of the officers (I'd like to remember it being the Lt. Col, but I don't know) asked if he could take the pup. I agreed after figuring my ARVN's would have sold the pup soon after I left. After I got back from R&R and was residing at An Hoa, I took an afternoon trip up to Hill 37 to see what was happening. That would have been in March 1970. Boy, everything had changed. No 2 CP tents now (Huddleson was gone). They had 8 to 10 guys there, using the French bunker we use to play poker in. They said my pooch, Lucky, was pooch-napped by the ARVN's and taken to the local hamlet. The officer who I gave the pooch too was irate, and ordered a sweep (go figure) through the hamlet that same day. Well, he pretty much got 'Lucky' back in one piece. top
Rob Charnell - Burke's Law - Spring, 1970
I don't know who the other fella was. We both had CP tents just outside the bunker. Hud had a TV hooked up in his, with Frig, beer, all the niceties. We used to watch Burke's Law re-runs from 10 - 11 each evening, and usually when VC's would mortar or just do random shots near the hamlet. Everyone would run to take up positions on the perimeter, but most of the grunts would end up in Hud's tent to watch conclusion of Burke's Law. Remember a 2nd Lt came in wondering where everyone was and saw 10-12 people watching TV. He couldn't talk he was so upset and beside himself. The grunts told him to get a life and with the program. top
Rick Swan - Meningitis? - June, 1970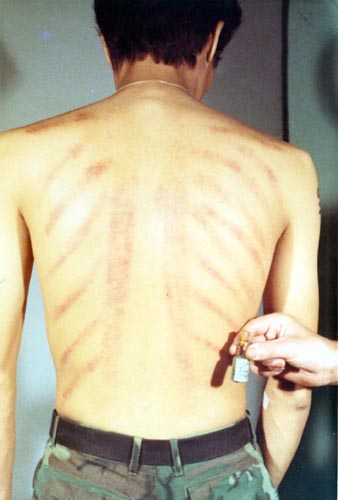 One evening we discovered our ARVN dancers, Zan and Dieu, in the hooch. Zan had severe black and blue marks over all his ribs on his back. The Hill 37 Corpman was concerned that he had meningitis. We ordered in a Chinook for medevac to Danang that arrived with two Cobra escorts. I escorted Zan in, with orders to keep him in sight, until relieved in the morning. Turned out to be a local remedy for some breathing congestion - rubbing a menthol-like liquid over the back. I was relieved around 10am and got a ride back to Hill 37 - only my second trip to Danang (first was from Dong Ha) during my year in Vietnam. My last trip would be to return to the States. top
Tim Lundberg - The Rats - Summer, 1970
Do you remember the rats? I remember them being as big as cats (exaggerated a bit by age and failing memory). Anyway, they used to rattle through the rafters of the hootches at night. Although Greek never flinched when we took incoming, he really cringed when the rats came out to play. I remember waking on many mornings to find him zipped up to his nose in a sleeping bag to escape the rats ... and I have no doubt that the temps were in the 80's!!! top
Tim Lundberg - Beggars Can't Tap Dance - Summer, 1970
Do you remember the affectionate term "Beggars"? It was pervasive in Viet Nam in the late 60's and early 70's. Now, I am not sure if I can perfectly define a Beggar. Certainly, many of us have memories of being "begged" on. And, it was usually the officers and senior NCO's that did the "begging". Clearly, some officers and senior NCO's were beggars … you didn't have to ask, you didn't have to wonder … you just knew. On the other hand, there were officers and senior NCO's that were without a doubt NOT Beggars … they knew the meaning of leadership and practiced it ably.
I do not know who coined the term "Beggars" but Greek (Robert Hrisoulis for those of you who did not know him) developed a unique way of testing those officers and senior NCO's that, in the minds of our crazy bunch of ditty chasers and spooks, walked perilously close to the fine line that separated Beggars from Leaders.
Whether relaxing over a beer or deep in the pursuit of the tasks that we were trained for or just milling around killing time, Greek would suddenly cry out "Beggars Can't Tap Dance" and then launch into a routine that put Gene Kelly to shame. Immediately, everyone that was within earshot would jump to their feet and begin to tap dance … except, of course, those that were REAL Beggars.
To this day, I still chuckle at the picture in my mind of five or six or ten young Marines following Greek's lead and bouncing around in a two-step shuffle with wide grins on their faces to the chagrin of absolutely befuddled officers and senior NCO's (no names need be mentioned because many of these fine people were just misdirected and may have rehabilitated).
It was the essence of our friend Greek. He had a way of brightening the day and bringing a sense of levity to what otherwise would be a depressing or overwhelming situation. To this day, when I watch an old movie … regardless of whether it's Gene Kelly or someone else … I smile knowingly to myself as I watch the tap dance routines and think of times past and my friend Greek.
top
Tim Lundberg - Alone on Hill 37 - Summer, 1970
My scariest moment was when the 7th Engineers got pulled stateside suddenly leaving the 1st Radio Battalion to "hold the Hill" for a night. All 10 or so of us hunkered down around the French bunker waiting for the inevitable. We were locked and loaded and had the place wired to blow (or should I say melt) ... but to our utter amazement and great relief, nothing happened. The grunts showed up in the morning to save us ... with tanks no less!! top
Tim Lundberg - No Water on the Hill - Late Summer, 1970
As you will recall, we drew water from the river ... and I think went through some type of purification process in those holding tanks that you see on many of the pictures. Well, for a while during my stint on the Hill, the VC were into severing the pipe from the river each night ... causing a pretty serious water shortage. We had water buffalo brought in for the vital stuff ... like brushing teeth and drinking ... but showers were scarce. At least the bad guys didn't cut off really vital supplies ... like beer. Dave McWatters - Dead Man's Corner - Late Summer, 1970 I was at the so-called Officer's Club on Hill 37 and learned the story from the grunts: LtCol Rose wanted desperately to get out of that bunker. It was on a finger of Hill 37 and had the nickname, "Dead Man's Corner" because it used to get all the short rounds fired at the Dai Lac District Chief's house. They (the grunts) thought it was hilarious that LtCol Rose conned Radio Bn into taking over his Hq. Tim Lundberg - The 50 Caliber Swap - November/December, 1970 Is it myth or real? I never knew for sure. As the story goes, one of our guys hitched a ride back to Hill 37 on a chopper which was mainly occupied by some grunts. Anyway, the grunts left a 50 caliber machine on the chopper. It is my recollection ... although this is a bit hazy in my memory ... that one of 1st Radio rangers (after failing in his/our efforts in finding the rightful owner of the 50 cal) took on the role of trade ambassador with some local Seebees and managed to swap the 50 cal for an early 1950's vintage Philco refrigerator painted Canary yellow. I also recall that he got the Seebees to throw in a pallet of beer ... I remember the Miller High Life in rusty cans well. Of course, with our generators, we could put this refrigerator to good use ... I think that we had the only cold beer on the Hill. I wonder if any ex-Hill 37ite can help me confirm this story ... and also help me remember the name of our trade ambassador because he should get a medal for these heroic efforts. In my view, this story has to be true ... otherwise, how would could you possibly explain having access to so much beer! Also, it would be interesting to know if anyone could explain why the Seebees always had beer. Tim Lundberg - The Monsoon - November/December, 1970 I was exchanging emails with Jerry Stephenson this morning (2/2003). We were reminiscing about the monsoon season that we experienced on Hill 37. It was incredible ... I think that it rained for 40 days and 40 nights ... hell, maybe it was 60 days and 60 nights. It sure seemed like it. I had never seen anything like it before. The whole valley flooded and we had to accept refugees from the Ville and elsewhere in the locale until the water receded. They occupied the hootches on the backside of the Hill near the river. The Hill was just one big mud pit ... but I think that it was the only thing above water for miles. My feet were constantly wet and I attribute this monsoon season to being the root cause of a foot fungus condition that stiff flares up from time to time even to this day. top
Tim Lundberg - Fuzzy's Socks - Fall, 1970
The VC were masters of creating inconvenience … if not havoc. On Hill 37, a pipe was run up the Hill from the river to provide us with our water for showers. The VC got on a kick where they would sever this pipe during the dark of night … despite the grunts increasing efforts to patrol this critical supply line. It wasn't long and they had seriously depleted our water supply … old wooden holding tanks near the old French bunker on the top of the Hill. Showers were few and far between.
Sometime during the Fall of 1970, Fuzzy Linck announced to the population of Hill 37 that he was mad and wasn't going to take it anymore. The time had come to fight back! He further announced that he was not going to wash his socks for six months!!
Well, incredibly … he stuck to his word. He became the source of much amusement as day after day he crawled into the same old dirty socks. Those old, green, woolen, now moldy things became a monument of our defiance … well, at least Fuzzy's defiance. As you could imagine, they stiffened with age … until he could stand them up alongside his cot when he retired at night. They were monuments in and of themselves.
I have suffered with nasal congestion for much of my life and often wondered if the source of this affliction was Fuzzy's socks. For sure, you didn't have to hear Fuzzy coming … you could identify him a good distance away with olfactory glands.
Dave McWatters, Mike Netto and I were laughing about this episode in our Hill 37 lives recently … as we recalled Fuzzy's socks. Little did we realize at the time, but we had the ultimate weapon at our disposal … WMD circa 1970. Actually, maybe it's okay that we didn't use these socks to our advantage because instead of being with us today, Fuzzy may still be serving time for war crimes … unauthorized use of biological agents. top
Tim Lundberg - VC Forward Artillery Observer - Fall, 1970
You have seen Dave McWatter's story of the new 3rd Platoon operations bunker being situated in Dead Man's Corner on Hill 37 … and the stories and pictures of the direct mortar hit that we took to prove it. Well, Fuzzy Linck had another theory … one that deserves to be put forth to fairly present all sides.
Believe it or not, we had a garbage pickup service on Hill 37 … "curbside" no less. Several times a week, two Vietnamese people would show up in their truck … a young man driving and a young lady collecting and dumping the garbage into the back of the truck. Somehow, that seemed backward to our chivalrous group but maybe it's just a cultural thing.
Anyway, Fuzzy began to get suspicious of the garbage lady and following the instincts of any good spook would make sure that he was on the scene when she and her driver companion would show up to haul away our garbage. To this day, he claims that the garbage lady was reconnoitering and pacing off our area so that she could return to her VC "comrades" with the correct coordinates for an upcoming mortar barrage. He tried to convince us that she was no garbage lady but, in fact, a VC forward artillery observer in disguise.
Mike Netto would tell you that Fuzzy's surveillance activities … which, by the way, included some surreptitious interrogation by Fuzzy each time that garbage lady arrived on the scene … was just a guise because Fuzzy actually had the "hots" for the garbage lady. Whether these rendezvous' were actually cloak and dagger routines by Fuzzy or romantic trysts, we will never know for sure … unless, of course, Fuzzy changes his story. top
Fuzzy Linck
- Horse Cock Salute - Fall, 1970
There was a mess hall down by the ARVN compound. I think I ate there maybe a half dozen times. Greek and I were walking back one Sunday morning looking down at Dai Loc village and the only second story building in the village became a one story when the top blew off.
We stood there gawking at the site and then LtCol. Rose (1/1 commander) comes walking down the path....so we said, "Good morning sir." And he says can I trouble you for a salute...and we told him we didn't think it was a good idea 'cause there might be a sniper out there.
So the Col. Says, "Hell risk it", so we saluted him smartly....and he says can you try that again without the sandwich. We had made some horse cock sandwiches to take back for lunch and forgot we were carrying them after just witnessing the top of a building get blown away... so... we militarily shifted the sandwiches to our left hands and tried the salute again... this time he liked it and moved on.
It was one of those things that made the whole experience of being there unique. top
Dave McWatters (at Tim Lundberg's urging) - Duck Soup - November, 1970
I was asked to be the guest of honor at the Dai Lac Orphanage. There were many Vietnamese orphans there. In fact there was a huge room full of them. I sat at the head table between Vietnamese Army officers. The kids were bringing me little gifts, such as an embroidered handkerchief, which I still have.
I noticed that between every other person at the head table, there was a bottle of Seagram's Seven (I didn't think much of that because I don't really drink that kind of alcohol). As I was eating the appetizer, which was duck soup, I chatted with my dining companions. The Captain sitting to my right mentioned to me, "Hey Lieutenant, how you like your soup?" I said, "Well sir, I'm not really a duck person but this guy is a little stringy." I chatted with my companion on my left and the Captain some more and about two minutes later the Captain said, "Hey Lieutenant," to which I replied, "Yes sir." He said, "Hey Lieutenant, that's not duck soup." I replied, "Oh? What is it?" The Captain replied, "Its dog soup."
As calmly as I could, I replied (Please keep in mind that I was a temporary Lieutenant because of the shortage of lieutenants in Vietnam. I did not have the benefit of OCS or Basic School at Quantico, where I am sure they were all taught how to handle themselves in certain social situations), "Sir, please pass the Seagrams Seven." I half-filled the water glass and took a swig, trying to slosh around the booze to sterilize my mouth.
At the same time, I had to overcome the urge to hurl my "duck soup" all over the kids who were sitting on the floor right in front of me. It felt like someone poured gasoline in my mouth or something and I had no choice but to swallow the rotgut along with the last spoonful of "soup" I had just eaten. Of course, the Captain was laughing so hard he had tears coming out of his eyes.
The last words I remembered him saying to me were, "Hey Lieutenant, you makee my day." To this day, I can't eat duck. Or dog. top
Tim Lundberg - The Christmas Tree Caper - December, 1970
Just prior to Christmas 1970, the 1st Radio Battalion contingent on Hill 37 poured their excess energies into constructing an important addition to the operations bunker. It was dubiously named "Whorehouse II" and became the refuge from the war for the ditty chasing denizens of Hill 37. You can find several pictures of this refuge on the website.
The construction of Whorehouse II was very arduous … if not ingenious. It required engineering, building, decorating and scavenging skills. Of course, when it came to scavenging, 1st Radio Battalion was blessed with one of the best … Fuzzy Linck. He truly missed his calling in not serving as our country's Trade Ambassador after his stint with our country's finest.
In any event, Fuzzy, Bruce Green ("Greenie") and I made a run to Danang one day in order to procure critical construction materials. We had a good day and had successfully gathered a truckload of plywood, nails, furniture and other important odds and ends … like beer. Naturally, such an arduous task deserved a respite so Fuzzy led us to the NCO Club on an Army base that had added generously to our spoils of war. Fuzzy had a nose for these things … NCO Clubs, that is. After all, darkness was approaching and we could not make it back to Hill 37 without risking life and limb … and, of course, our precious cargo.
One of the shortcomings from this scavenging raid was all important to our mission. We had not been able to find a Christmas tree. However, after partaking of several cold ones, Fuzzy concocted a scheme to pilfer the beautiful little tree that was adorning the corner of the NCO Club.
The plan was simple … Fuzzy and I would create a diversion … and Greenie would lift the tree. Bolstered by a couple of more cold ones, Fuzzy and I set off to position ourselves in a strategic location outside. We staged a fist fight … complete with ketchup that we had procured in the NCO Club … and ended our noisy fisticuffs by wrestling each to the ground as the Club emptied and gathered around … and as the MP's rushed to break it up. In the meantime, Greenie nabbed the tree. Fuzzy and I could see Greenie's shadowy figure stealing away between the hootches with the Christmas tree under his arm … headed for the truck … as we dusted ourselves off to the admonitions of the MP's that showed leniency during this holiday season. Proud of our achievement, we retired for the night.
Well, unbeknownst to us, Fuzzy had managed to pull off my dog tags during our staged fight which now lay in the dirt perilously close to the scene of the crime. The next morning Fuzzy and I were rounded up by the MP's and parked at attention in front of a Top Sergeant with bushy eyebrows … and my dog tags dangling from his index finger. After what seemed like an eternity, he proceeded to dress us down in only the way that salty Top Sergeants can do and proceeded to threaten us with severe disciplinary action if the tree were not returned. Of course, we proclaimed our innocence (Greenie stole the tree … not us) and upon dismissal scurried out of his sight on a dead run to Greenie and the truck. We boogied back to Hill 37 and created quite a stir as we drove to the backside of the Hill where the bunker was situated with the Christmas tree prominently held on top of the cab of the truck … to the cheers of grunts and ditty chasers alike. top
Fuzzy Linck - Santa Claus Buzzed Me at the Piss Tube - December 24, 1970
I was taking a leak at a piss tube up by the motor pits.....and look out west towards the Que sons...and here comes a red huey in real low....just over the antennas so low that I can see some grunt in a Santa suit sitting in the door way with his feet dangling down on the skids.... and I'm watching this and not believing it but he waves to me.

So I let go of Goliath with one hand and throw him a wave back… Now my heart is pounding and I'm pissing all over the place....I run down to the bunker to tell everyone what I just saw… I go flying into the bunker and blurt out that I just saw Santa in a red huey and he over on the LZ.

You could have heard a mouse fart...and then it starts...what am I smoking...what am I drinking... and I'm pleading and begging everyone to come see 'cause I don't want them to miss this....and by the time they come out the bird is just leaving the LZ...he buzzes the hill one more time and heads off toward 55 with a cobra gun ship escort.

That was just another one of those things that made that place so freakin bizzare. top
Tim Lundberg - Snow in Vietnam - January, 1971
I had the opportunity to accompany two ARNV's on a 10 day grunt operation in the mountains somewhere west of Hill 37 in January 1971 … playing at being a linguist after Lee Ahr (the real linguist) went "back to the world". Anyway, we were situated in a tent right next to the grunt CP tent near the top of a mountain … and doing our thing. Notwithstanding the activity swirling all around us that was not so pleasant for the grunts that were engaged in it, it had to be one of the most beautiful sites that I have ever witnessed. Each morning, I would arise to look down the mountain at a river that curled through the jungle at the bottom … with wisps of fog here and there. I was stunned each time … and also sobered by the fact that so many violent things could happen in such a peaceful and beautiful setting. Well, believe it or not, one morning I woke to this view with the added pleasure of a few fluffy snowflakes!! Yep, it actually snowed in South Viet Nam !! top
Tim Lundberg - The story continues - January, 1971
I actually believe that I was on the operation in the mountains when the "new" bunker did take a hit from one of the short rounds that Dave refers to above. Miraculously, no one was killed or hurt seriously. George Williams did take a piece of shrapnel though ... and earned a Purple Heart. I hope that this story gets a response from someone that was actually there at the time ... I seem to recall hearing that the mortar round came through the roof and took out the yellow refrigerator ... could be fiction though. George Williams would know if he ever surfaces. Also, if I can find Dave McWatters again, he may remember. top
Mike Netto - The story continues, even more - January, 1971
The above refers to the night that we DID take a mortar in the old WHOREHOUSE II. We were playing poker and the mortar came thru the roof and luckily exploded when it hit the roof and most of the shrapnel went upward severing some of the antenna wires. As I recall it was Fuzzy and I and George and another guy whose name I can't recall but we called him Mac. The tailfin was imbedded in the floor behind the bar which Bill Schaeffer found later. He was running around telling everyone how he had found the tailfin and that caused Fuzzy (of course) to give him the nickname "tailfin minnie." top
Fuzzy Linck - Will this story never end? - January, 1971
I was assigned by Dave McWatters to accompany George Williams on the chopper to Danang to get patched up. Well, on the Hill during the "triage", the corpsman had cut off all of George's clothes as they treated his wounds … I guess that is standard procedure. George was a little stressed about making the trip to Danang without clothes … so I jumped to the rescue and gave him my only clean pair of pants to put on just before they left for the LZ. Well, wouldn't you know it … as they wheeled George into the hospital in Danang, they immediately launched into the same "cut off the clothes" procedure despite my rigorous efforts to prevent them from wrecking my only clean pair!! top
Fuzzy Linck and Mike Netto (as told by Tim Lundberg) - A Night on the Town - March, 1971
After a night of beer drinking at Whorehouse II (a direct mortar hit and a hole in the roof wasn't enough to chase off this crew), Fuzzy Linck and Mike Netto were overcome by loneliness and deprivation and decided that they would head into Dai Loc to see if they could find a little female companionship.
Now, you have to picture this scene and share a chuckle will all of those more sensible spooks who remained behind and wanted nothing to do with such an escapade. The picture of two "emboldened" Marines trying to pick their way through several strands of concertina wire had a line of slightly tipsy spooks doubled over in laughter but nonetheless "quietly" cheering them on.
Anyway, Mike and Fuzzy managed to claw their way through the wire … and the bystanders watched them steal themselves into the shadowy streets of Dai Loc. We watched and waited for their return … getting more worried as the minutes stretched into hours. We finally retired … not knowing if we would ever see our friends again.
The next morning found them stretched out on their cots … looking a little haggard but all in one piece. We all gathered around them for the story of their night out as they pulled themselves together to tell us of their adventure.
For whatever reason, they were unsuccessful in their mission to find companionship … and truthfully, not much is known about what happened in the ville that night … because these guys are not saying much. Perhaps the details of their evening in Dai Loc will surface later … but, the story of their return is worth telling.
As they fought their way back through the concertina … a little more clear headed now … they discovered a "gate" that had been installed by our ARVN contingent. Well, they were feeling pretty good about not having to fight their way through the wire and waltzing their way back on to the Hill … until they found themselves in the grasp of several burly MP's that were awaiting their return.
Believe it or not, they were quickly swept away from the perimeter, "marched" up the Hill and ushered into the French bunker … the old 1st Radio Battalion ops bunker … for an interrogation. Halfway up the Hill, Mike and Fuzzy, to the utter amazement of the MP's, halted the procession. Fuzzy asked them to hold on while he slipped into his hootch to retrieve some more cigarettes … and Mike excused himself so that could do a number at a shitter close by. The poor MP's were dumbfounded and didn't know what to do. However, the boys dutifully returned to their "formation" and continued their march to the French bunker and their interrogation.
As the story goes, the MP's first asked Mike for his name … to which, of course, he responded … "Mike". When they tried again to pin down his name and rank, he replied "Sgt. Mike". After several attempts and realizing that they were up against a pretty tough cookie, the MP's turned to the other perpetrator and asked for his name. The response now predictable … "Fuzzy". When pressed, the most they got from him was "Sgt. Fuzzy" … along with some mumbled and incoherent reference to Cher and Paladin.
At this point, one of the MP's stepped forward and said … "you guys are with that group in the bunker at the bottom of the Hill … aren't you". When Mike and Fuzzy acknowledged that they were, the MP simply said "you can go" … and the boys hit the rack to sleep it off. Nobody knew what this crazy bunch of was up to in that secretive bunker at the bottom of the Hill … with its Top Secret No Admittance signs and clutches of antennas … but it was clear that the MP's didn't want anything to do with us or perhaps getting in the way of whatever secret mission Mike and Fuzzy were conducting.
By the way, check out Fuzzy's email address … SgtFuzzy@aol.com … after all these years, the moniker still "sticks" … they won't ever break this battle hardened Marine.